Axiros And WebToGo Announce Strategic Solution Partnership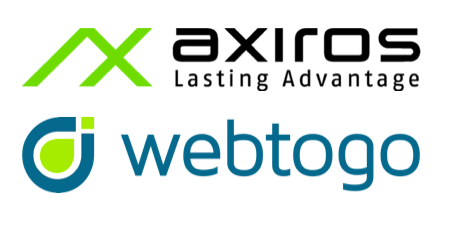 11 December 2017 – MUNICH, GERMANY – Axiros, a global leader in Internet of Things technology, TR-069, Machine to Machine, and Device Management and WebToGo, a leading provider of home network and mobile phone support solutions are pleased to announce their strategic solution partnership.
WebToGo is working with clients throughout the world enabling mobile-first after-sales processes through end-user facing software on all operating systems, with a focus on seamless connectivity and device diagnostics.
Axiros is thrilled to welcome WebToGo to the team. The addition of WebToGo will enhance the current technology that Axiros offers as part of its leadership in the Internet of Things market.
"Partnering with WebToGo is a great extension to the capabilities of Axiros," said CEO Kurt Peterhans. "We are very pleased to be working with them more closely and to add their experience to our team."
Along with its front-end customer support services, WebToGo also uses technology driven processes to provide the best experience and minimize risk for after-sales customer support.
"We see a partnership with Axiros as a perfect fit. It is not often that solutions are both complimentary and extend each other in their core strengths," said Peter Duesing, co-founder and CEO of WebToGo. "Our mission is to provide the best possible support systems and the power of Axiros in the backend will certainly help both in home network support and the Internet of Things."
Learn more about WebToGo at webtogo.de.
For more information about Axiros, please visit axiros.com and follow us on Twitter @axiros1.
About WebToGo
WebToGo provides lasting value in customer support through true self-help solutions empowering end-users and support agents regardless of constraints of device and platform. Founded in 2001 and headquartered in Munich, WebToGo has its own development facility in India and offices in Spain, the Netherlands and Latvia. www.webtogo.de @WebToGoMobile
About Axiros
The Axiros AXvantage: Any protocol, any device, any service – any time. Axiros is a global leader in IoT, M2M, TR-069 and device management, providing software solutions and platforms to service providers and equipment manufacturers worldwide to manage and IoT-ize devices.
Founded in 2002 and headquartered in Munich, Axiros has sales and service offices and development centers worldwide, so as needs change, Axiros will always be close by to deliver. http://www.axiros.com @axiros1
News