Cross platform data transfer and backup
Wirelessly and securely transfer data between Android, iOS and Computers
X-transfer is a cross-platform transfer and backup solution available for Android, iOS, Windows and Mac. The application is solely mobile-first without any intermediate storage or the need for cables or additional hardware. This makes it accessible anywhere and at any time.
Direct device to device transfers keep your data secure and leave no trace of your content on servers or hard drives in compliance with the EU's General Data Protection Regulation (GDPR).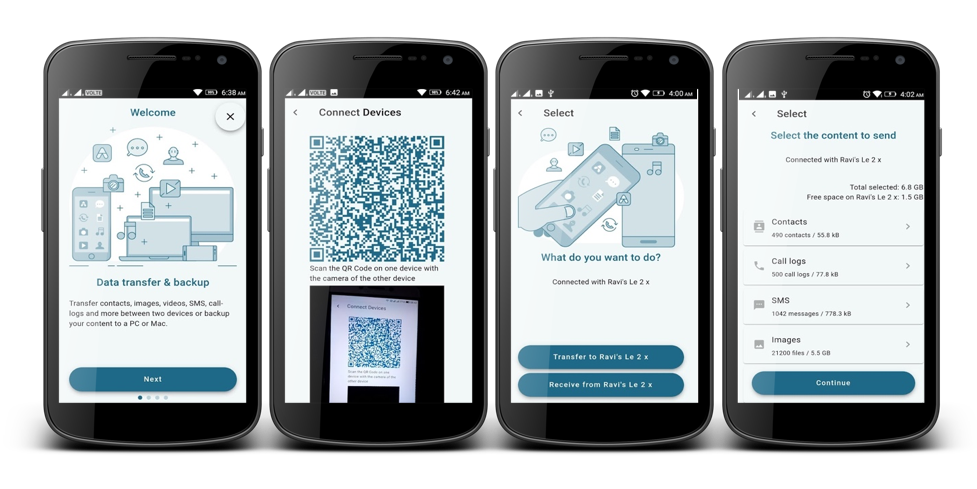 Download the app from the following stores:
Simply connect your devices to the same WiFi network or via WiFi-direct to yield better speeds and start copying your personal data across. In case of connection interruptions during the transfer, the app has the capability to auto-reconnect, picking up where it left off.
The application supports the following content:
Contacts, SMS, Call logs, Images, Videos, Audios, Appsand Documents.* with various options:
Peer-to-peer Smartphone transfer
Transfer between Smartphones and Computers
Backup and restore with SD cards
Backup and restore on the Cloud
Transferring personal data can become necessary when sending the Smartphone for repair, upgrading to a new device, selling old devices, freeing up memory space on the Smartphone or keeping a copy of your data for security reasons or ease of access. Partial restores are also supported: Only restore contacts on a loan-device and do a full restore once your own smartphone is returned.
*Depending on the platform, the supported contents may vary.