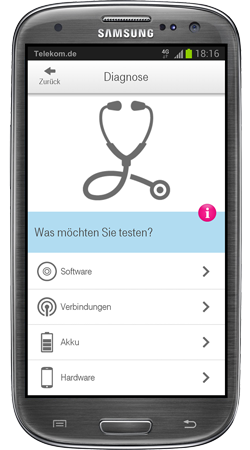 Provide smartphone support where it is needed and reduce support costs
Smartphones are twice as expensive in support compared to feature phones. When things work, they work, but when things go wrong, users turn to hotlines for help or surf the web to find answers. Or they are simply left stranded. In 2013 a major global Telco took up our proposition to address this issue at its root, by helping customers on their device, diagnosing their issues and educating them about device capabilities.
WebToGo provided an on-device Self-Diagnostics solution, which runs a battery of tests on the device, checking the software, mobile network, SIM and hardware. Through an appealing and intuitive interface the application helps the user optimise the device, solves the issues it finds and provides self-help information. It also allows sending session logs via email to the Telco support team, if further assistance is needed.
The application is provided for download via the Google App Store and pre-installed on all current devices the Telco sells.
Customers have shown their appreciation for the application, giving it an average evaluation of 4,5 out of 5 on Google Play.
The Telco explains the solution in a video: http://youtu.be/oM5i_u13HgU
Mobile First After-Sales
Case Studies