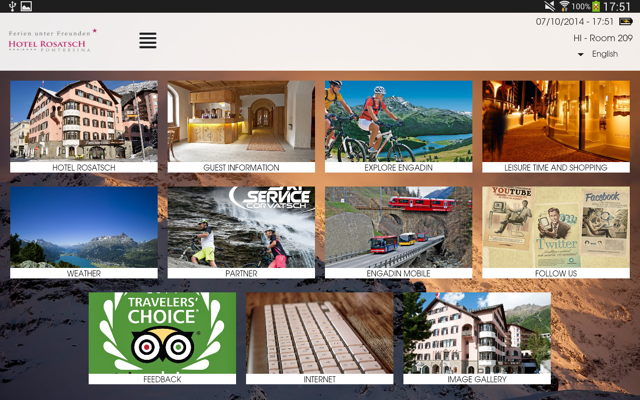 Hotel services at your fingertip
In February 2014 i-frontdesk announced the Hotel-App launch for the Rosatsch Hotel in Pontresina, Switzerland.
The solution offered the hotel a mobile concierge for tablets with access to hotel internal facilities, complemented with external third party services.
One of the main benefits for Rosatsch is the possibility to easily update contents. This function fits perfectly the hotel necessities as they promote a lot of outdoors activities. With the app, they can communicate the activities they have at every moment in a very effective way.
Both the hotel and guests have won with the App. The hotel has enhanced guest experience, optimized the business process and gained competitive advantage. For the guests it is all positive: they receive a 24/7 service, in multiple languages, real- time information, direct booking possibilities and dynamic entertainment.
"From the very beginning our guests were enthusiastic about i-frontdesk.
We are really pleased to belong to the first European hotels to adopt such a progressive solution."
Michael Wagner, owner of Rosatsch, Pontresina-CH
Hotelling Solutions
Case Studies